In this Article
Wood-Plastic Composites
Durability
Capped Composites
All Plastic Decking
Maintenance
Warranties
Choosing a Product
See also WOOD DECKING      View all DECKS & PORCHES Articles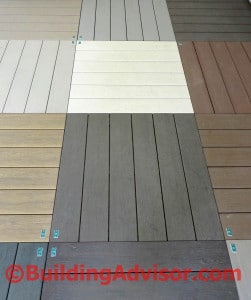 Almost half of new decks now use composite or plastic decking and the number continues to grow. The driving force is the promise of a wood-like appearance with minimal maintenance.
How well each product lives up to this promise varies. There have been a few notable failures – composite products that rotted, for example, and were taken off the market.
But, for the most part, these products perform well and require only a periodic cleaning to look, at-a-glance, like real wood decking. But don't expect miracles. To some extent, all products will fade over time, and surfaces will scratch and stain from normal use.
Also, be wary of bargain products, which often skimp on manufacturing quality. Making a high-quality synthetic decking requires expensive ingredients and good quality control. There are many places to skimp in the process.
Most products fall into the few categories discussed below, but each has unique characteristics and installation requirements. In all cases, review the product specs and, if possible, look at a few installations before purchasing.
Composite Decking: What Is It?
Decking materials made from finely ground wood fiber mixed with polymer resin have been in use for almost two decades. While these wood-plastic composites (WPCs) have generally established a good track record, they have not always lived up to owners' expectations of a truly maintenance-free product. Many WPCs use a high percentage of recycled materials making them appealing to green building advocates.
Most composite have a solid core and are sold in sizes that match and install like standard wood decking. Others are extruded with hollow cores, which reduce weight and add stiffness, but require special trim pieces to hide the open ends. Using less material also reduces manufacturing costs.
In general, composite decking materials are dimen­sionally stable, resistant to the elements, and can be worked and installed more or less like wood decking. Special screws designed for composite decking leave a clean hole without dimpling around the screw head. Most solid products cannot exceed 16-inch on-center framing, and they feel a little bouncy underfoot due to the material's greater flexibility (low modulus of elasticity) compared to wood.
Some products have an embossed wood-grain finish that may wear away over time. The colors also tend to fade over time and the surface texture roughen, giving an appearance similar to weathered wood. For some customers, this is fine; others who expect the decking to look new forever may be disappointed.
Many of the problems faced by first-generation products have been reduced with newer formulations. Two trends in particular – adding a plastic skin to composites and offering all-plastic (cellular-PVC) options – have brought the industry closer to delivering on the promise of a "maintenance-free" wood-like decking.
Durability of Composite Decking
A combination of overzealous marketing by manufacturers and wishful thinking by homeowners created unrealistic expectations when composites were first introduced. Many customers thought they were getting a zero-maintenance product that would last forever. Within a few years, homeowners discovered that composites weathered under sunlight, got stained by cooking oil, sunscreen, or tree sap, and could grow mildew or mold if left under a pile of wet leaves.

In some cases, products failed altogether as the composite chemistry failed to hold together or the wood fibers in some products absorbed water and rotted. Class-action lawsuits have been filed against Fiberon, Trex, TimberTech, Azek (plastic decking) and just about all major manufacturers for fading, color change, mold growth, surface deterioration, and in some cases structural decay. Even when mixed together with plastic, wood fiber still acts like wood.
In response, manufacturers toned down their marketing and stepped up their maintenance instructions – recommending regular cleaning with a composite deck wash. They also modified their formulations to improve performance and durability.
One of the big challenges for manufacturers is that their raw materials are highly variable, so the products they output are variable. The raw materials are wood flour – essentially sweepings from the lumber mill floor – and (at least partially) recycled plastics from sources such as old bottles and bags. Some batches have not turn out so well, resulting in sporadic product failures. How widespread problems have been is hard to determine as most of the lawsuits are settled out of court and are not public record.
Many factors affect the long-term performance of wood-plastic composites including the wood/plastic ratio, wood species and fiber size, the type of plastic resin and whether it is new or recycled. The manufacturing process also affects the surface characteristics and water absorption, which is critical to long-term resistance to mold and decay.
Chemical additives also play a big role. The quality and quantity of the pigments used for color affect fading resistance. And proprietary additives and stabilizers are used make the products stiffer and more resistant to UV radiation, crumbling, and mildew growth. High-quality ingredients and additives add a lot of cost to the formulations, so manufacturers must make choices of cost vs. performance.

On the plus side, these products have been sold for nearly 20 years and have definitely improved over that time. Despite sporadic problems, most composite decks have performed quite well, especially if the owner has done the basic maintenance of removing piles of wet leaves and debris, wiped up spills, and done a periodic cleaning with a deck wash.
Capped Composites
To address customers' concerns, many manufacturers have introduced a new generation products that wrap the composite core with a "capstock," – a tough plastic veneer about 1/16 in. thick made of PVC or proprietary plastics. Capped composites are the fastest growing segment of the composite decking market, referred to by some as "ultra-low maintenance."
In addition to keeping moisture away from the wood fibers, the covering allowed more appealing (to some) faux-wood finishes and, more importantly, a more durable, easy-to-clean surface that is less prone to fade, scratch, or stain, or to support mold and mildew. However, how well the faux-wood finish holds up to the elements over time is unclear.

The best embossed wood-grain finishes look pretty realistic, much like Pergo flooring. Some companies encapsulate the core on all sides, some just the top, and some everywhere except the installation slots. In all products, the ends are exposed allowing limited moisture penetration at those points. Not surprisingly, each manufacturer claims that its particular capstock configuration is best but there is little data to support these claims. Also some manufacturers have reduced the quality of the underlying core stock to reduce costs.
The capped products are more expensive than standard composites and tend to carry longer warranties, usually with a number of important limitations. Since these products are fairly new and the capstock material is in some cases a company secret, it's best to find one that has at least a few years under its belt – and to read the warranty carefully. The exclusions give you some idea of how much confidence manufacturers have in the product.
Capped composites might turn out to be the killer app of composite decking, but it's too soon to tell. Long-term testing is lacking and difficult to evaluate as manufacturing specs are often tweaked over time. One big concern with capstock decking is swelling of the exposed ends, which tend to absorb water as they are not protected by the capstock. Some contractors seal the ends or apply a trim piece. In general, the higher the wood content of the composite, the more swelling will occur.
All-Plastic Decking
Another popular approach to ultra-low maintenance decking is to eliminate those pesky wood fibers altogether with 100% plastic decking. The growth of PVC decking has been driven, in large part, by the widespread popularity of Azek and other cellular PVC products now widely used for exterior trim.

In fact, Azek decking is essentially the same as Azek trimboards, but with a tougher skin. Together with capped composites, solid PVC decking now accounts for nearly half the new residential decking market. Other large manufacturers of cellular PVC decking include Wolf Home Products and Gossen.
Less common, one-of-a-kind types of plastic decking include BearBoard (HDPE), NyloBoard (recycled carpet fiber, and Eon (polystyrene, Canada only).
Older versions of PVC decking were made from hollow extrusions similar in profile to a vinyl window frame. Most products now have a solid core of cellular PVC encapsulated in a harder "capstock" skin similar to capped composites.
Because there is no wood fiber, PVC decking is immune to wood-related problems such as mold and wood decay. As with capped composites, the hardened outer skin provides color and realistic wood-grain textures, along with resistance to staining, fading, and scratching. Also cellular PVC tends to be stiffer than wood-plastic composites and do not need pre-drilling.
Resistance, however, does not mean the material is indestructible. Plastic can be scratched by heavy furniture or stained by bug spray, oil or red wine that is not removed quickly. Also, fading can be expected occur over time, especially with darker finishes. Azek refers to this as "weathering" not "fading," but the result is the same. There are renewal products on the market that can help restore a new look to some extent but these are not easy to apply and may not last much more than a year.
Like PVC trim, PVC decking cuts, drills, and installs more-or-less like wood. Despite the significant thermal expansion that can occur in unrestrained boards, Azek recommends butting end joint tight. If you follow their installation instructions for either face-screwing or hidden fasteners, the thermal expansion will be restrained and the deck surface will remain dimensionally stable, according to the manufacturer.
Hot Feet.  All decking products can get hot underfoot with a direct overhead sun exposure, but plastic and composite decking have a reputation for getting uncomfortably hot in warm, sunny climates. In general the darker the color and the denser the material, the hotter the material will get in full sunshine. If that's a concern, a simple comparison of competing products laid out in the sun is the best way to go. The same goes for dark wood decking when the original dark color is maintained.
Maintenance of Composite & Plastic Decking
With so many products, you can now find synthetic and composite deck boards in almost any natural or stained wood color and with a smooth surface or realistic embossed grain pattern. The big question is not so much what the product looks like in the showroom, but what will it look like 3, 5, and 10 years later after exposure to the sunlight, foot traffic, tree sap, and food and wine spills. The answer depends on the specific product, exposure to sunlight, wear and tear, and user maintenance.
To their credit, synthetic decks require much less maintenance than wood decking. No sealers, stains, or sanding will ever be required. With standard composites, once the surface weathers, it bears a strong resem­blance to weathered wood, but without the customary warping and checking. Capped products should retain their color and surface texture with normal wear and exposure.
To prevent mildew growth, standard composites need to be keep free of leaves and debris and washed periodically with a composite deck wash. For capped products (composite or PVC) a gentle soap and water wash is adequate. For all synthetic decks, oil and grease, red wine, and other substances prone to staining should be removed with warm soapy water along with a soft brush for embossed patterns. For other stains and general maintenance requirements, make sure to read the manufacturer's recommendations or you risk voiding your warranty.
Warranties for Synthetic Decking
I take all building material warranties with a large grain, or shovel-full, or salt. They generally cover only materials, not labor, and are often prorated for years in service. And there are enough technicalities and limitations that the manufacturer can always claim that you didn't follow some aspect of the installation instructions.
That said, a stronger warranty from a reputable company is worth more than a weak warranty from a fly-by-night or out-of-business firm. Because of the relatively high failure rate of decking products it's foolish not to read the warranty and supporting documents. In addition to installation details such as maximum spans and fasteners, limitations may apply to types of cleaners and chemicals used, how fast you remove stains, ventilation space below the decking, clearance to the ground, treatment of ends, and maintenance requirements, such as "no abrasive cleaners or metal-edged snow shovels…"
Since most warranties are voided for things like "improper installation, or failure to abide by Manufacturers' guidelines" for such things as handling, storage, and maintenance, you will need to do a little detective work to find out what those guidelines are. If it's unclear call or email the manufacturer. You can usually find this additional information on the manufacturer's website, although sometimes in different places: Installation Instructions, FAQs, Cleaning & Maintenance, etc. If you don't find what you're looking for, by all means call or email the manufacturer.
Here's a limitation from Azek, somewhat illogically covered under "Care and Cleaning," that you probably never thought of: "Sunlight, which may be reflected by low-emissivity (Low-E) glass, can potentially lead to damage of exterior building products, including AZEK Deck…products, due to elevation of surface temperatures which far exceed that of normal exposure of the same materials to direct sunlight. Possible damage by such reflected concentrated light may include melting, sagging, warping, distortion, surface discoloration, increased expansion or contraction, and unusual weathering."
Look for products with the longest warranties with the fewest limitations. Limited warranties on the best products are often 20 to 25 years. In wet climates or applications, look for products rated for use in ground contact or close to the ground as these will likely be the most impervious to moisture damage. Above all else, look for a reputable manufacturer who has a reputation for standing behind its products. Contractors' lumberyards are a good resource here.
Choosing the Right One
Synthetic and composite decking offers a bewildering array of products – some with a decent track record, some brand new, and most made using a proprietary recipe and manufacturing process. Visit a contractor lumberyard that carries several lines. Look at lots of samples to see what appeals to you. Some look like plastic; some you couldn't tell from real wood when viewed from a foot away.
Ask the lumberyard which products hold up the best for the application you are planning. Take home some samples. Try to scratch them with keys, stain them with cooking oil, red wine, and permanent markers, and then try to clean them. These quick-and-dirty tests can tell you a lot about real world performance, at least in the short run. If you're in no rush, leave a few samples out for several months to see how they fare when exposed to the elements.
Products are constantly changing and small manufacturers come and go. With composites, many technical factors involving materials and manufacturing are difficult or impossible to know or evaluate – the percentage of wood vs. polyurethane, particle sizes, additives, and cap materials, among others. Since it's hard to know exactly what you are buying, you are really banking on a manufacturer that you can trust is putting out a quality product and will be around to honor the warranty if there is a problem.
While some of the largest manufacturers, such as Trex, Fiberon, and TimberTech have had high-profile failures, they have also been around the longest, have made huge investments into R&D, and are most likely to be around in the future. Along with other industry leaders such as TimberTech, Azek, and Gossen these companies have the most skin in the game and the strongest commitment to producing high quality products and supporting them. Especially avoid home-center brands as they are sourced from different manufacturers and you have no idea what you are getting.
Finally, don't expect miracles – and buy enough extra stock to repair the occasional damaged board in the future. You can't just sand and refinish a bad ding, or buy a board at the local lumberyard in three years and expect it to match.