In This Article
Interior Vs. Exterior
Type of Foam
Installation
Subslab Insulation
Subslab Vapor Barriers         View all Foundation & Sitework articles
Basement wall insulation is recommended in most of the U.S. except for the deep South. Energy savings are about the same whether you insulate on the interior or exterior. The best insulation to use is rigid foam, which is largely unaffected by moisture. There are some small theoretical advantages to insulating on the exterior having to do with thermal mass, but these are far outweighed by practical concerns.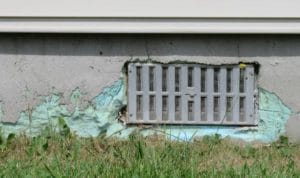 INTERIOR VS. EXTERIOR FOAM
In practice, insulating on the interior is usually a better option. The main advantages are:
• Exterior foam insulation is often damaged during backfilling, and is difficult to protect above ground. There are a number of protection systems, but most get damaged over time.
• Exterior foam provides a perfect entry point for termites and carpenter ants, as well as a comfy home for carpenter ants who like to hollow out the foam for nesting. (In termite-prone areas, you may be required to leave an "inspection gap" at the top of the wall with either interior or exterior foam.)
• Interior insulation is easier to install and usually results in a better overall job. In retrofits, it is often the only option. Also, the foam board helps keep moisture on the exterior and prevents condensation on the interior.
TYPES OF FOAM
Use either extruded polystyrene (XPS) such as Styrofoam or Foamular or expanded polystyrene (EPS), sometimes called "beadboard." EPS is less expensive and rates about R-4 per inch vs. R-5 for XPS. However EPS is more permeable to water vapor and more prone to absorb water. Both types of foam need to be covered by drywall or another code-approved fire barrier on the interior.
EPS foam is available in different densities and the higher-quality products are stronger and less permeable to moisture, making them a better choice for basement applications.
Because  of its low permeable, XPS  on the interior helps keep  moisture out of the finished space if the foam panels are well-sealed at seams and perimeter joints. On the the exterior, XPS foam is the best choice because it absorbs little water compared to EPS. Also XPS is stronger and better able to withstand backfilling.
Another good choice for interior basement insulation is foil-faced polyisocyanurate (iso-board), such as Thermax, with an R-value of about 6.5 per inch. You may be allowed to leave foil-faced insulation uncovered – check with your local building department. However, iso-board will readily absorb water so is not recommended for basement exteriors.
Spray foam is also an option on the interior, but is usually a lot more expensive than foam boards. and more difficult to finish.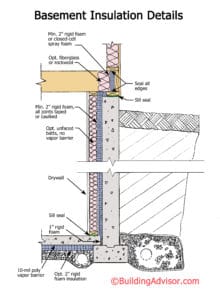 When using foam insulation on basement walls, the building code (IRC) requires R-5 for southern states (excluding the deep South) and R-10 for the rest of the US. Many energy experts recommend R-15 to R-20 for far northern states. Estimated savings for R-10 insulation range from $250 in Washington DC to $400 in Minneapolis. You'll also have a much warmer and dryer space, which may be the more important reason to insulate.
FOAM INSTALLATION
Place the foam board directly again the concrete or block and secure it with adhesive or concrete fasteners and washers. Make sure you use an adhesive formulated for use with foam board. For mechanical fastening, Plasti-Grip PMS fasteners work well for both concrete and block.
Seal the foam boards together with canned foam or a high quality building tape such as Dow Weathermate Construction tape or Dupont Tyvek tape. Also seal the foam at top, bottom, and corner joints with a small bead of canned foam. For a job this large, buy the large cans and a professional quality applicator gun – you'll be happy you did.
If you are planning to finish the basement, you can use fewer fasteners and help hold the insulation in place with furring strips nailed through the foam or 2×4 studs, which provide nailing for the drywall and a space for wiring.

If you are adding studs, you can place unfaced fiberglass or rock-wool batts between the studs for added insulation. Because the added cost is modest, this a good idea in cold climates — as long as you have a very dry basement. If you're not sure, best to leave out the fiberglass. If  but could contribute to moisture or mold problems long-term.
No Vapor Barrier in Wall. Whatever approach you take, do not use a vapor barrier anywhere in the wall as it will do more harm than good, Basement walls need to dry toward the interior, so a low-perm vapor barrier under the drywall, such as plastic sheeting, can  potentially trap moisture and promote mold and mildew growth.  With foam board insulation, painted drywall provides an adequate vapor retarder.
SUBSLAB INSULATION
If you are planning to finish the basement space, you should also consider adding a layer of foam insulation below the slab. The insulation may not save much money in energy bills due to moderate earth temperatures at that depth, but it will warm the floor surface enough to reduce condensation.
Without insulation, water will condense on the cool surface of the slab in warm, humid weather. The damp slab causes musty odors and can damage floor coverings, finishes, and materials stored in the basement. This is especially problematic with carpeting on the slab. A warm, dry floor will greatly improve the quality of the finished space.
Two-inch extruded polystyrene foam (XPS) is typically used as one-inch foam is too fragile to place under a slab. Expanded foam (EPS) is a less expensive option, and considered better for the environment, but you would need to use high-density Type II EPS for this application. Type II foam has a  nominal density of about 1.5 lbs./cu. ft.
It is possible to place the insulation above the slab in a retrofit. There are two main approaches:
Place 2x4s flat on the slab and insulate between them. The 2x4s can "float" or be secured with concrete nails or Tapcons. Then nail subflooring to the 2x4s.
Place 1 to 2 in. of rigid foam insulation on the slab and float the subflooring above.  Float two layers of min. 1/2 in. insulation above the foam, staggering all joints. Secure the top layer of plywood to the lower layer with nails or screws.
If there is no vapor barrier below the slab, or you're not sure, it's best to add a vapor barrier on top of the slab, under the insulation.
SUBSLAB VAPOR BARRIERS
It's important to add a heavy-duty vapor barrier under the slab to create a barrier to water vapor, which can readily pass through the concrete.  The water vapor will harm any paints or floor coverings placed on the slab and can add significantly to household moisture levels.
The plastic sheeting use for the vapor barrier should be at least 10-mil thick unless you are using one of the reinforced plastics approved for this application. It is easy to damage a thin layer of standard poly while prepping for and placing the concrete.
The placement of  underslab vapor barrier has been debated heavily in the concrete industry for two decades. The current consensus within in the concrete industry is that, when a vapor barrier is used, the best location is directly under the slab.
The problem is that the vapor barrier slows the drying of the wet concrete, extending the bleed time and finishing time, and sometimes leading to curling of the slab edges. Curling is a result of the top of the slab drying more rapidly than the bottom.
For years, many industry experts recommended placing a layer of sand or gravel above the vapor barrier to absorb bleed water and, thereby, reduce the finishing time and curling. However, this was found to cause more problems than it solved. Water was trapped in the sand or gravel "blotter" for extended periods, leading to high moisture levels in the slab and basement — causing the very problems the vapor barrier was intended to solve. Placing the vapor barrier below the insulation creates similar problems by trapping water.
Concrete contractors have adjusted to the use of vapor barriers by adjusting their mixes, adding a little more reinforcement at the bottom of the slab, and using well-graded, compacted aggregate below the slab. In general lowering the water content and water-cement ratio will solve most of the finishing problems.
One last thing: Before insulating any basement, make sure there are no basement water problems. In many cases, water problems can be solved by better management of rainwater with gutters and downspouts that direct water away from the foundation. In new construction, it's also important to place a durable vapor barrier directly beneath the slab.
Read More on    Basement Vapor Barriers       Foundation Insulation Coatings