Steve writes: A friend recently moved into a property where a downspout leaked for years causing soil under the footings to be washed away on one corner of property. Their builder said they need to fill the void with concrete to provide support in that area. Is this a good approach and what would you call this remedy?
Steve Bliss of BuildingAdivsor.com responds: This sounds like a reasonable solution, which is referred to, in general, as underpinning. Underpinning is required when the soil beneath a foundation cannot support the load. Examples include filled soil that has not been properly compacted, organic materials such as peat, or places where the soil under the foundation has been eroded or disturbed, as in this case. Leaks in the water pipes under a slab foundation can also destabilize or erode the soil.
There are a variety of solutions depending on the specific situation. The soil can sometimes be stabilized and strengthened by adding cement-like materials (chemical stabilization), or that section of foundation can be made deeper to reach stable, undisturbed soil — or the footing made wider at the base to spread the load over a larger area. Other more exotic (and expensive) solutions include special steel pins and helical piers engineered to support weight in poor soils.
Since it is difficult to replace and compact soil beneath an existing footing, filling the void with concrete may be the easiest and cheapest solution as long as you can fill down to undisturbed, native soil of adequate strength. And, of course, you need to redirect the downspout so the water drains safely away from the building without causing damage.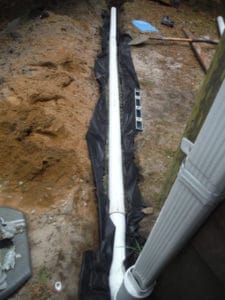 It's surprising how many basement water leaks, erosion issues, and other drainage problems can be fixed by simply redirecting water from gutters and downspouts away from the house.
Sometimes a splash block or a short run of horizontal pipe (drain pipe or pvc) along the ground is all that is needed. On a flat site with poor natural drainage, a dry well located away from the foundation may be needed to safely discharge the water back into the soil.

Since you are excavating to repair the footings, you should make sure that the house has functioning footing drains, and to repair or replace them if needed. Footing drains provide a secondary line of defense by moving water away from the base of the foundation. However, managing the surface water from the roof and yard, so it flows away from the foundation,  is your top priority.
Read more Managing Roof & Yard Runoff